If you decide to purchase a house, the first thing that should come to your mind is whether or not the place you are planning to live is safe. This is to avoid any kind of stressful situation in the future. If you find out that the neighbourhood is unsafe, then you'll definitely want to think about another option. In addition to that, make sure that you pay attention to what people say about the place so that you can learn how good or bad it is.
Whether a property is desired or not usually depends largely upon the available surrounding amenities. Amenities make properties much more attractive to future buyers. For example, surrounding amenities in Puncak Alam make the properties located there become more appealing. Did you know that choosing a house with interesting surrounding amenities can be beneficial for you? Continue reading to find out more!
Participate in Leisure Activities with Amenities in Puncak Alam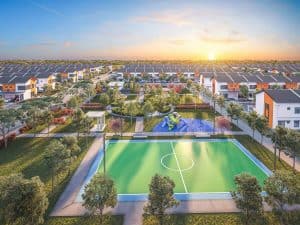 If you are still clueless about the surrounding amenities that are essential for your future house, you can consider the public amenities below:
Parks
Schools
Hospitals
Public Transport
In Puncak Alam, there are various parks nearby, such as Lake Park Hillpark, Dragonfly Park @ Eco Grandeur and Forest Park Hillpark, that can be regarded as local amenities for you with an opportunity to unwind and engage in recreational activities.
By getting involved in leisure activities, you can adopt a more productive routine for your lifestyle. Other than that, amenities like Tasik Puteri Golf and Country Club are generally for people to socialize with others. You can meet the people within your local communities and put behind the stressful day at work for a while.
Nearby amenities in Puncak Alam let you engage in various exciting activities among people around your neighbourhood. Whether it's a park where you can play sports or just take a stroll through the woods, these places are great for getting exercise, spending quality time with friends, and improving your overall mood!
Healthcare Amenities in Puncak Alam as The Best Emergency Assistance
With so many things at stake, some people might easily overlook the need for medical services in the excitement of finding a perfect house. Residing nearby a hospital gives you easier access to visit your doctor or medical professional if any medical emergency arises.
Malaysia has amongst the world's highest standards of public health care services. With such high levels of health care, it would greatly benefit residents in areas where hospitals are situated close by. Other than that, it can also bring peace of mind knowing that if any medical emergencies were to occur, fast expert medical help would only be minutes away.
In Puncak Alam, a nearby hospital, Al-Sultan Abdullah Hospital (UiTM Hospital), can be your medical service provider during an emergency. Hence, this is one of the benefits of living and enjoying amenities in Puncak Alam.
Amenities in Puncak Alam – Adding Value to Your Life!
Public amenities are considered an essential element that can add value to your life. If your property is located near road networks and public transport, you and your family get to enjoy the benefit together. Considering the benefits listed above, the amenities in Puncak Alam add value to your life and your family and friends that live together or not living together with you.
Now, when you are looking for a house, it is clear now that the surrounding amenities are also important in choosing which location suits you best. One of the best locations that you should consider in purchasing a house is Puncak Alam!
Enjoy Amenities in Puncak Alam with LBS Alam Perdana Now
Enjoy the surrounding amenities in Puncak Alam with LBS Alam Perdana! Located in Alam Perdana, you will get access to nearby Puncak Alam too. Contact us now if you have any inquiries about our property and ongoing projects!