Rawang is one of the oldest satellite towns of Kuala Lumpur. It was founded since the early 19th century and was the second area in Selangor to be explored for tin mining. The fast-improving property development and demand has opened the residential property market in Rawang. The rapid development that happened since the mid-2000s occurred largely due to increasing consumer demand: It is perceived that Rawang offered an alternative for affordable living as compared to owning a property in Klang Valley or Kuala Lumpur, albeit at a further distance from where they will commute to work.
There is a discernible pattern here. Most of us would want to settle in a township that is serene with good growth potential, in a good house with an affordable price tag. When it is not possible to afford it at the heart of a city, we look for the next best alternative, pay less for more kind of deal.
With Rawang being its property prices rerated to commensurate with the status of its growth, it is time for us to look for an up and coming township with plenty of growth potential, especially in the modern times.
Enter LBS Alam Perdana: The Most Exciting Township That Has Immense Opportunity
Before we mention anything about LBS Alam Perdana, let's talk about this gem of the location they are in Puncak Alam. In a span of 20 years in this relatively new township:
There are as many as 9 developers who have poured in billions of ringgits developing in it
UiTM, one of the bigger universities in Malaysia has its campus in Puncak Perdana, having more than 20,000 students
There is a hospital coming up under the helm of UiTM
ECRL Phase 2 is under construction and will pave for another exciting train access to and from here
Sounds like a lot of exciting things happening in Puncak Alam. Why LBS Alam Perdana?
Premium Living At Affordable Prices
Located at Bandar Puncak Alam, this 470-acre gated & guarded township packs a lot of value for a serene, premium living.
Lush greenery with landscaped features that respect the surrounding flora & fauna, this can be evidently seen in the planned aerial shots of their township. The mixed development comes with 4 projects that have tastefully designed landed & high-rise properties. The facilities that come with each project are meticulously planned & built for wholesome living. Each project easily has more than 30 facilities on average. Rentak Perdana itself has 43 types of facilities, something that is rarely seen for a complete, terrace house living experience.
See To Believe, An Unbelievably Superb Deal
Check out https://lbs-alamperdana.com.my/ and see for yourself what they really mean by inspired community living. View the concept of the project, feast your eyes with its splendid properties and also a handy price list.
If there is one township that is poised to become the next big, happening thing in the property scene, this will be it.
Visual: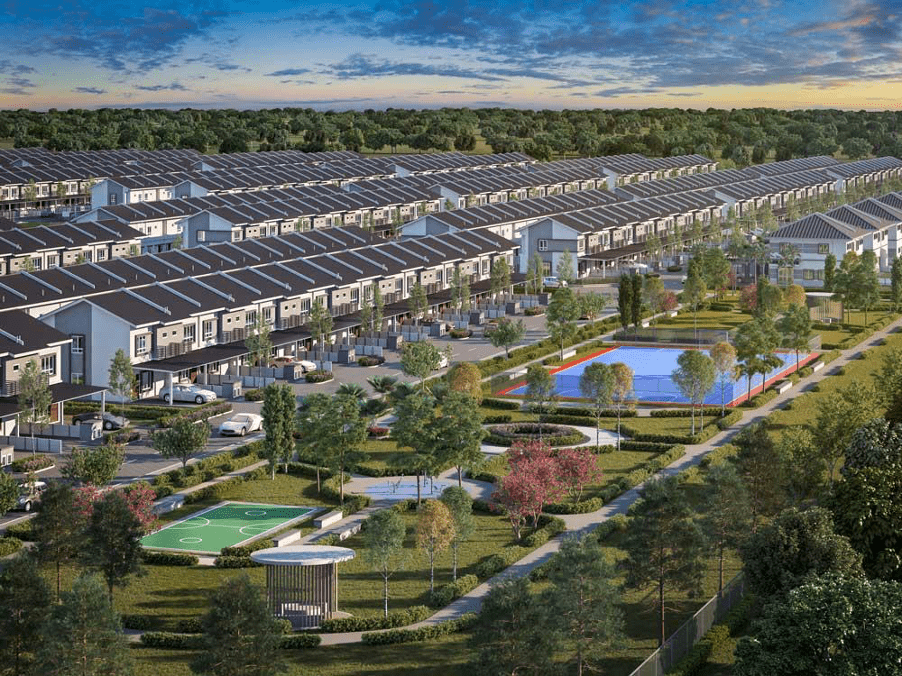 Rentak Perdana @ LBS Alam Perdana
Related Article: Why Are Landed House & Apartment Owners in Rawang Begin to Pay Attention to Puncak Alam?
Citations:
https://www.iproperty.com.my/guides/7-interesting-things-you-need-to-know-about-rawang/
https://www.theedgemarkets.com/article/property-areas-watch
https://www.edgeprop.my/area-outlook/selangor/rawang