Damansara Perdana, the 750-acre township has been thriving alongside its neighbours Bandar Utama and Mutiara Damansara. It is highly accessible via three major highways: SPRINT Highway (Penchala Link), Lebuhraya Damansara-Puchong and NKVE, which makes it a great choice for those working outside of the city centre as well as those working in the heart of the city. For those who rely on public transportation, Mutiara Damansara MRT station sits just five minutes away. Damansara has been dubbed the "Golden Triangle" of Petaling Jaya. In the property industry, Damansara is so remarkable that now there are more than 25 new property neighbourhoods, roads and landmark buildings in Kuala Lumpur and Selangor that at least have the word Damansara as part of their project name.
One of its biggest advantages is its location which is in the gateway of KL and Petaling Jaya and the fact that it is surrounded by high-end neighbourhoods like Mutiara Damansara, Mont Kiara, Damansara Heights, TTDI and Tropicana. There is also a higher potential for infrastructure upgrades by the government such as public transportation systems, educational and health institutions.
With its already rapid development, a savvy investor may want to maximize their investment potential by identifying another up and coming township that has immense growth potential. There is this one township that you should pay close attention.
An Undiscovered Gem: What's The Growing Township Next To Damansara?
Before we talk about the township, let's talk about its location which is Puncak Alam. It is considered a relatively new township that has been silently growing. It was a FELDA-owned palm estate that began development in the late '90s. In 2001, it was taken over by a private company as the principal developer.  Universiti Teknologi Mara (UiTM) Shah Alam takes up across 1,085.75 acres of land with quite a dense population of students and staff working there.
There are already at least 9 property developers in it, including various types of properties such as apartments, terraced houses, superlink homes, bungalow lots, semi-detached clusters and commercial properties. One wonders why these big developers plunged in billions of ringgits for years in a pretty unassuming approach in growing this place.
Do you know that ECRL Phase 2 is in progress over here? This estimated length of 88 km railway will cover the stretch from Gombak North to Port Klang (Jalan Kastam) through Serendah and two more future stations located at Puncak Alam and Kapar.
Enter Alam Perdana
Sprawling over 470 acres of land with lush greenery, Alam Perdana represents a symbiotic relationship between nature and the community. The mixed development contains more than just good houses, it will be a community-centric haven as well. This means the inclusion of education hubs, community centres, life-enhancing facilities and plenty of natural and landscaped paths and gardens to explore. To top it off, it will be fully gated-and-guarded for a total security comfort.
Our projects; Simfoni Perdana, Irama Perdana, Rentak Perdana and Melodi Perdana are named with musical elements in mind, which resonates with closely-knitted community living.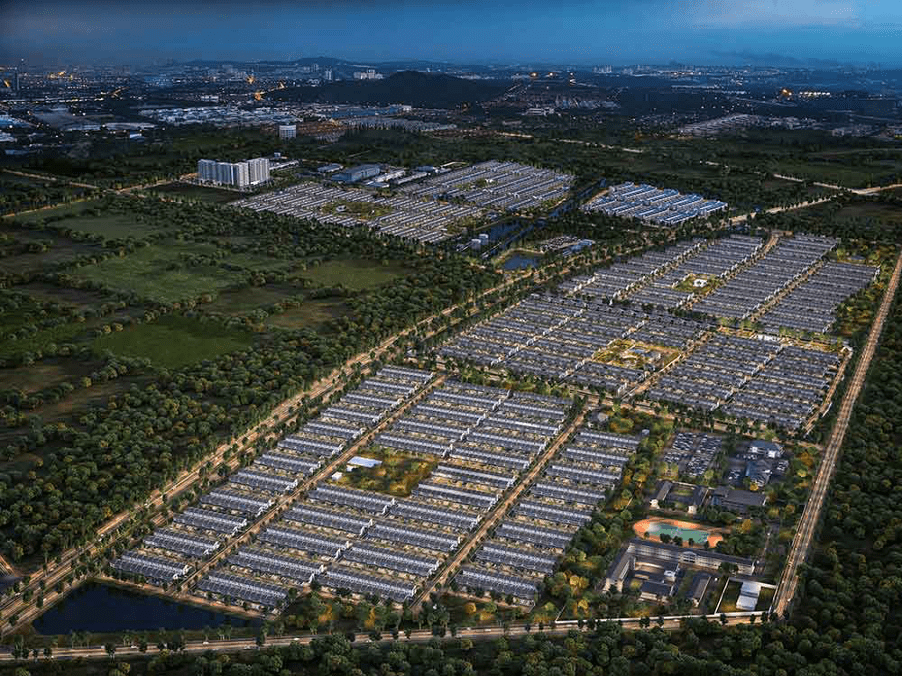 The aerial view of Alam Perdana township, a feature-complete mixed development for all walks of life.
Related Article: Damansara Property Seekers Are Also Eyeing On These Particular Townships
Citations:
https://www.edgeprop.my/content/1442862/creating-inclusive-community-lbs-alam-perdana
https://www.edgeprop.my/area-outlook/selangor/kota-damansara
https://www.traveltill.com/destination/Malaysia/Damansara/history.php
https://www.iproperty.com.my/guides/4-reasons-you-should-consider-investing-in-damansara-perdana/